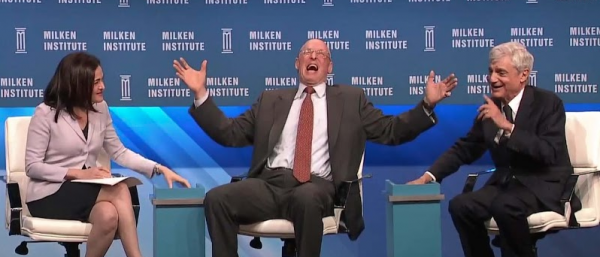 From Investment Research Dynamics
The middle class in America is like the housewife who knows her husband is cheating on her but she chooses to ignore it and pretend it will stop. – Anonymous FOD – Friend of Dave's
The system has been totally hijacked. Make NO mistake about it, gold was hit hard when the paper trading in London cranked up after the SGE had turned off its lights for the day. The reason: Glencore.
Anyone remember Enron? Probably not. Most people have already forgotten, mostly, that their taxpayer dollars were used by ex-Goldman CEO Henry Paulson to bail out Goldman Sachs in 2008 when he was Treasury Secretary. His primary motive was to preserve the value of the $250 million in warrants he still owned after he got to unload $500 million in stock – tax-free. Recently Zerohedge found a snapshot of Paulson laughing about the entire matter.
Glencore is going to make Enron look like a polite tea and cake break. Gold was smashed when paper London opened because the Fed, BoE and ECB can not under any circumstances let the price of gold spike up – like it should be doing – and thereby alert the world that there's a big problem in the world of derivatives related to Glencore, among other "things" (Emerging Market FX contract, energy, Biotech ETFs, etc).

The issue with Glencore, since we all saw it coming which means the Central Banks saw it coming, is the degree to which the CB's have been able to "brace" for its impact. The problem, however, is that just like Enron and the big banks before it, there is 100% probability that Glencore upper management has: a) lied about the market value of its assets, both on and off balance sheet; b) has lied about the true amount and nature of its derivatives exposure; c) has been lied to by rank and file who are in charge of accounting and reporting the data to upper management (trust, me I know this goes on because I saw it first-hand at Bankers Trust; and foremost, e) has NO idea the true nature of its total exposure to the full lunar eclipse world of OTC derivatives.
Given that Glencore management has fed the Central Banks a big bag of lies about the size of the risk exposure at the Company, it's not probable that the Central Banks are properly prepared to put out the fuse on the nuclear derivatives bomb that has been lit. This is why the stock market is shitting the bed today and this why the price of gold was bombed like an ISIS camp by a joint effort of London and NYC bombers.
Just ask Jamie Dimon about this regard in reference to the London Whale blow up. Dimon admitted that he had no idea how large JPM's exposure was at the time. The London Whale is a sea-algae molecule in size compared to Glencore and the entire body of OTC derivatives connected to anything Glencore has touched.
Can you smell middle class flesh burning yet? It's starting to burn my nostrils…